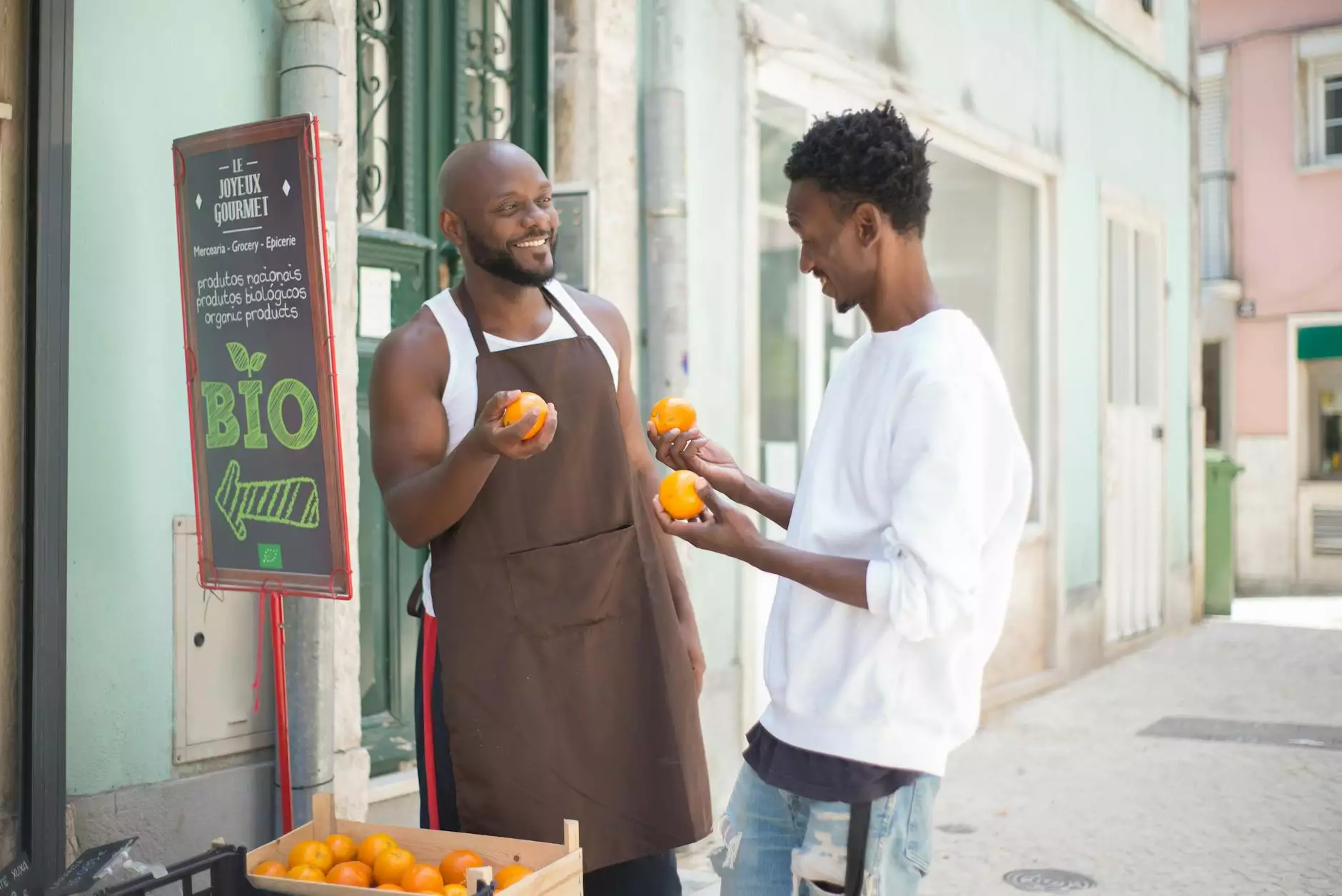 Welcome to Maslow Lumia Bartorillo Advertising's insights on the best grocery shopping apps for 2022. In this article, we will explore the top 20 popular grocery shopping apps that can elevate your shopping experience to new heights. With the advancement of technology, grocery shopping has become more convenient, efficient, and tailored to meet your unique needs.
1. Instacart: The Ultimate Shopping Assistant
Instacart is a well-known grocery shopping app that connects you with your favorite local stores. Whether you prefer organic produce, specific dietary restrictions, or everyday essentials, Instacart has got you covered. With its user-friendly interface, you can easily browse products, compare prices, and schedule deliveries with just a few taps.
2. Amazon Fresh: A One-Stop Shop
Amazon Fresh is the grocery delivery service by the tech giant, Amazon. This app allows you to order fresh groceries, pantry staples, and household items, all in one convenient platform. Their vast selection, fast delivery, and competitive pricing make Amazon Fresh a go-to choice for many.
3. Walmart Grocery: Easy and Affordable
If you're looking for an app that offers both grocery pickup and delivery, Walmart Grocery is a great option. With their everyday low prices and extensive range of products, Walmart Grocery simplifies your shopping experience. Plus, you can enjoy the convenience of curbside pickup or have your items delivered straight to your doorstep.
4. Shipt: Personalized Shopping Experience
Shipt takes grocery shopping to the next level by providing a personalized experience. Through their app, you can create a custom shopping list, specify your preferences, and even receive advice from their expert shoppers. Shipt is known for its exceptional customer service and reliable, on-time deliveries.
5. FreshDirect: Freshness Delivered
FreshDirect is a popular grocery delivery service that focuses on delivering fresh, high-quality products to your door. With their farm-to-table approach, you can enjoy a wide variety of locally sourced produce, meats, seafood, and more. FreshDirect also offers meal kits and chef-prepared meals for those who prefer ready-to-eat options.
6. Target: Convenient Shopping for All
Target's grocery shopping app provides a seamless shopping experience for all your needs. Whether you're looking for groceries, household essentials, or even clothing, Target has it all. With their easy-to-use app, you can add items to your cart, explore exclusive deals, and choose between pickup or delivery.
7. Peapod: Simplify Your Grocery Runs
Peapod is a grocery delivery service that aims to simplify your grocery runs. By using their app, you can easily order groceries online and have them delivered to your doorstep. Peapod offers a wide range of products at competitive prices, making your shopping experience hassle-free.
8. Postmates: More Than Just Food
Although primarily known for food delivery, Postmates also offers a wide array of groceries and household items. With their convenient app, you can browse through various local stores and have your items delivered within an hour. Postmates' quick delivery and extensive selection make it a reliable choice.
9. Kroger: Large Selection, Great Deals
Kroger's grocery shopping app provides a vast selection of products, from fresh produce to household essentials. With their intuitive interface, you can easily navigate through departments, digital coupons, and personalized offers. Kroger also offers convenient pickup and delivery options to match your preferences.
10. Wegmans: Quality You Can Trust
Wegmans is a renowned grocery retailer known for its commitment to quality and customer satisfaction. Their grocery shopping app allows you to explore Wegmans' extensive range of products, including organic and locally sourced options. With convenient features like shopping lists and recipe suggestions, Wegmans ensures a seamless shopping experience.
11. Freshii: Healthy Eating Made Easy
If you're focused on healthy eating, Freshii's grocery shopping app is worth checking out. Freshii offers a wide selection of nutritious meals, snacks, and beverages. With their app, you can conveniently order healthy options for pickup or delivery, making it easier to maintain a balanced diet.
12. Safeway: Your Neighborhood Store
Safeway is a popular grocery store chain known for its wide selection and competitive prices. With their app, you can easily browse through aisles, find exclusive deals, and have your groceries delivered straight to your doorstep. Safeway's user-friendly interface makes grocery shopping a breeze.
13. Sprouts Farmers Market: Fresh and Affordable
Sprouts Farmers Market is a grocery store that focuses on providing fresh and affordable products. Their grocery shopping app allows you to explore their wide range of organic produce, natural remedies, and bulk items. Sprouts Farmers Market promotes healthy living and sustainable choices.
14. Whole Foods Market: Quality and Sustainability
Whole Foods Market is well-known for its commitment to high-quality, organic products. Their grocery shopping app offers a seamless shopping experience with features like recipes, personalized recommendations, and exclusive deals. Whole Foods Market prioritizes sustainability and supports local producers.
15. Meijer: Convenience at Your Fingertips
Meijer's grocery shopping app brings convenience to your fingertips. From groceries to household items, Meijer offers a diverse range of products. With their app, you can easily browse through departments, digital coupons, and weekly ads. Meijer also provides different delivery and pickup options to suit your needs.
16. Grofers: One-Stop Destination for All Your Needs
Grofers is a comprehensive grocery shopping app that caters to all your needs. From daily essentials to fresh produce and household items, Grofers offers a wide range of products. With their user-friendly app, you can experience hassle-free shopping and timely delivery.
17. FreshToHome: Fresh Meat and Seafood
For those who prioritize fresh meat and seafood, FreshToHome is the grocery shopping app for you. With their focus on quality and freshness, FreshToHome delivers products directly from the source. Their app ensures easy ordering and doorstep delivery for a hassle-free experience.
18. Boxed: Bulk Shopping Simplified
If you prefer buying groceries in bulk, Boxed is the app for you. Boxed offers a wide range of bulk items, from pantry staples to cleaning supplies. With their efficient delivery services, you can stock up on essentials without leaving the comfort of your home.
19. HelloFresh: Meal Kits Made Easy
HelloFresh revolutionizes meal planning with their grocery shopping app. HelloFresh offers meal kits that include pre-measured ingredients and easy-to-follow recipes, making cooking a breeze. With their app, you can conveniently choose your meals, customize your preferences, and have everything delivered to your doorstep.
20. Aldi: Great Value, Quality Products
Aldi is a well-known grocery store chain that focuses on offering great value and quality products. Aldi's grocery shopping app allows you to easily browse through their range of affordable groceries, weekly deals, and special buys. Aldi simplifies your shopping experience and helps you save money.
As you can see, there are numerous grocery shopping apps available in the market, each with its own unique features and benefits. Whether you're looking for convenience, affordability, or specific dietary options, these top 20 grocery shopping apps are here to make your life easier. Take advantage of the seamless user experiences, extensive product selections, and convenient delivery options offered by these apps to elevate your grocery shopping game in 2022.
At Maslow Lumia Bartorillo Advertising, we understand the importance of staying ahead of the competition in the business and consumer services industry. As a leading marketing and advertising agency, we provide expert strategies to elevate your brand's online presence and visibility. Our team of SEO professionals and copywriters is dedicated to crafting high-quality content that helps you outrank your competitors, driving more traffic and conversions to your website.
Partner with Maslow Lumia Bartorillo Advertising today and let us transform your online presence with our exceptional marketing and advertising services. Contact us now to get started!