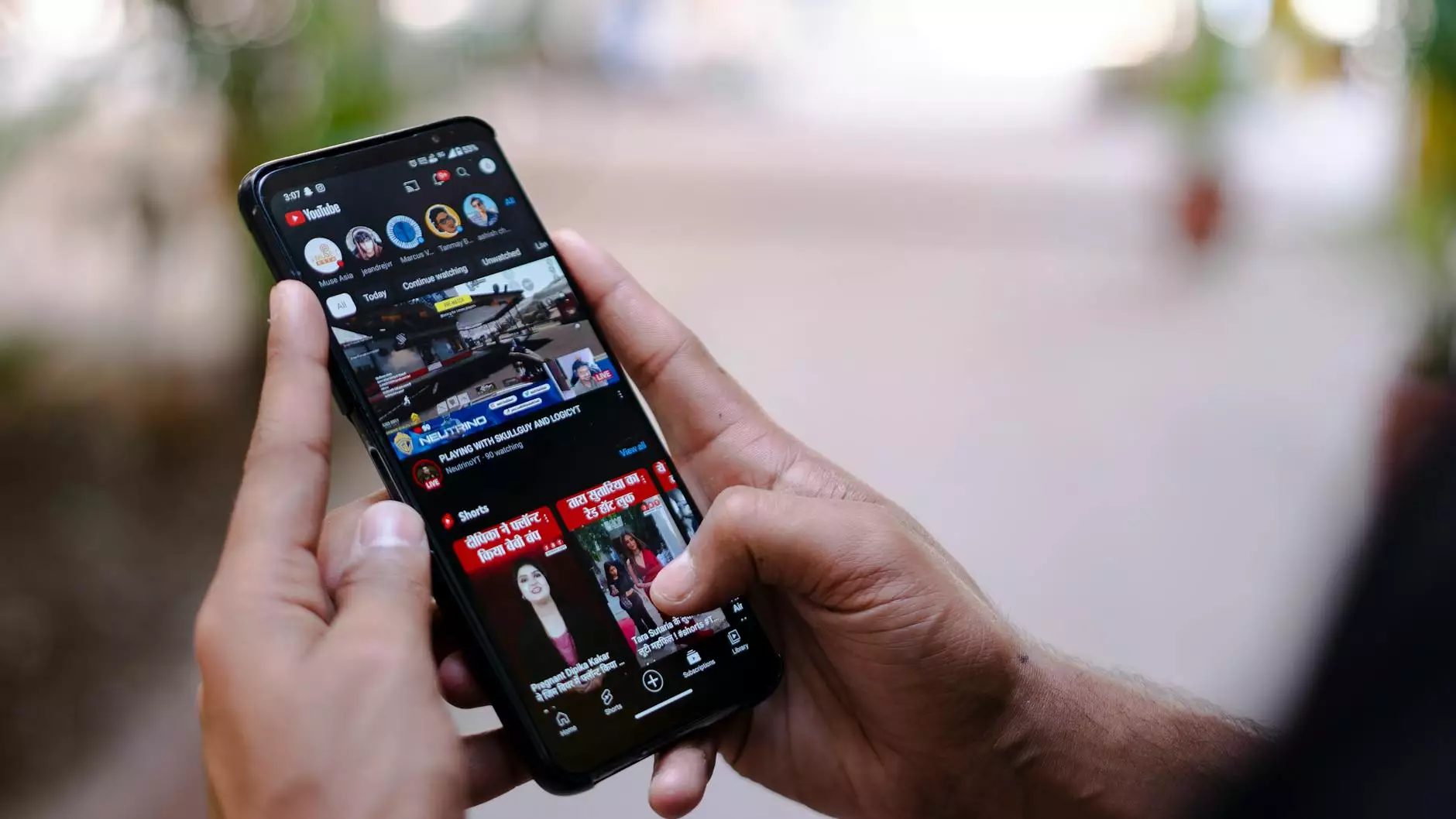 Welcome to Maslow Lumia Bartorillo Advertising, a renowned marketing and advertising agency specializing in business and consumer services. In this comprehensive guide, we will walk you through the process of developing a live streaming app on iOS and Android platforms. With our expert insights and tips, you can create an app that not only stands out but also ranks high in search engine results.
Understanding the Rise of Live Streaming Apps
Live streaming apps have gained immense popularity in recent years, revolutionizing the way people consume and share content online. With the rise of platforms like Facebook Live, Instagram Live, and Twitch, live streaming has become a powerful tool for businesses and individuals alike to connect with their audience in real-time.
Developing a successful live streaming app requires careful planning, efficient execution, and a deep understanding of your target audience. Our team at Maslow Lumia Bartorillo Advertising has years of experience in creating cutting-edge apps for businesses in the marketing and advertising industry. Let's dive into the essential steps for developing a live streaming app on iOS and Android.
Step 1: Defining Your App's Goals and Target Audience
To ensure the success of your live streaming app, it's crucial to define your goals and identify your target audience. Knowing your audience will help you tailor the features, functionalities, and overall user experience of your app to meet their specific needs and preferences.
At Maslow Lumia Bartorillo Advertising, we conduct thorough market research and user analysis to identify key demographics, interests, and behaviors of your target audience. We help you develop a comprehensive user persona that guides your decision-making process throughout the app development journey.
Step 2: Designing an Intuitive and User-Friendly Interface
An aesthetically pleasing and user-friendly interface is essential for the success of any app, including live streaming apps. Users should be able to navigate through your app effortlessly and access live streams with just a few taps.
Working closely with our design team, we ensure that your live streaming app's interface is intuitive, visually appealing, and aligned with your brand identity. From selecting the right color schemes to creating seamless user flows, we pay attention to every detail to deliver an exceptional user experience.
Step 3: Implementing Robust and Scalable Backend Systems
Behind every successful live streaming app is a robust backend system that supports seamless streaming, real-time interactions, and reliable performance. At Maslow Lumia Bartorillo Advertising, we have a team of experienced backend developers who specialize in building scalable infrastructures for live streaming apps.
From implementing content delivery networks (CDNs) to managing server-side code and databases, our experts ensure that your app can handle high traffic and provide a smooth streaming experience to users. We also integrate analytics tools to help you track user engagement and gather valuable insights for future improvements.
Step 4: Integrating Essential Features and Functionalities
While developing your live streaming app, it's essential to integrate features and functionalities that enhance user engagement and drive app usage. Some key features commonly found in successful live streaming apps include:
Real-Time Chat: Enable users to interact with the streamer and fellow viewers through a chat feature.
Social Sharing: Allow users to share live streams on their social media platforms, increasing your app's visibility and reach.
Push Notifications: Send personalized notifications to users for upcoming live streams or when their favorite streamers go live.
Monetization Options: Provide streamers with monetization options such as ad placements, sponsorships, and virtual gifting.
Video Archive: Enable users to access previously streamed content for offline viewing or rewatching.
By incorporating these features thoughtfully and innovatively, you can create a live streaming app that offers a unique and engaging experience to your users.
Step 5: Conducting Extensive Testing and Iteration
Before launching your live streaming app, it's crucial to conduct extensive testing to identify and fix any bugs or performance issues. At Maslow Lumia Bartorillo Advertising, we follow rigorous testing methodologies to ensure your app meets the highest standards of quality and functionality.
We engage real users in beta testing to gather valuable feedback and make necessary improvements based on their insights. Continuous iteration and refinement are vital to delivering a top-notch live streaming app that stands out in the market.
Step 6: Launching and Promoting Your App
Once your live streaming app is ready to launch, it's time to create a buzz and attract users. As a leading marketing and advertising agency, Maslow Lumia Bartorillo Advertising offers a wide range of services to help you promote your app effectively:
App Store Optimization (ASO): We optimize your app's listing in the app stores to improve its visibility and organic search rankings.
Social Media Campaigns: Our expert social media marketers design and execute targeted campaigns to drive downloads and user engagement.
Influencer Partnerships: We connect you with relevant influencers who can create buzz around your live streaming app through sponsored content and endorsements.
Content Marketing: We create compelling blog posts, videos, and tutorials that showcase the unique features and benefits of your app.
By leveraging our expertise in marketing and advertising, you can maximize the reach and impact of your live streaming app, ensuring its success in the highly competitive app market.
Conclusion
Developing a high-quality live streaming app on iOS and Android requires a strategic approach, exceptional design, robust backend systems, and effective promotion. With Maslow Lumia Bartorillo Advertising as your partner, you can create an app that not only meets your business goals but also ranks high on Google search results.
By following our comprehensive guide and leveraging our expertise, you can develop a live streaming app that captivates users, drives engagement, and establishes your brand as a leader in the live streaming industry. Contact us today to get started on your live streaming app development journey!